Please direct any general questions or concerns to: [email protected]
If you need to contact a specific individual, our contact information is listed below
Hamid Ghanbari
Principle Investigator
[email protected] 
734-963-7141
Dr. Ghanbari is a cardiovascular electrophysiologist at the U-M Northville Health Center where he treats patients who have arrhythmias. He enjoys his specialty because it is challenging and allows him to make a big difference in his patients' lives very quickly. When not working, Dr. Ghanbari enjoys spending time with his daughters, cooking, running, reading, and traveling. Before completing his Advanced Cardiovascular Electrophysiology Fellowship at the University of Michigan, Dr. Ghanbari was a fellow at Providence Hospital and Medical Centers and a student at Wayne State University, the University of Michigan School of Public Health, American University of the Caribbean, and McMaster University.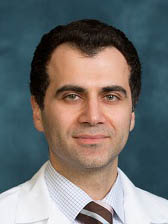 Kevin Wheelock
Medical Student – M4
[email protected]
Kevin is in his final year of medical school at University of Michigan and is currently applying to Internal Medicine residency programs. He plans to continue his training after residency and become a cardiologist. Kevin enjoys cooking, reading science fiction novels, spending time with his cats, and going hiking with his wife. He received his Bachelor's Degree from Michigan State University in 2014 and was an Intramural Research Training Award fellow at the National Institutes of Health prior to attending medical school.